First and foremost, Happy Thanksgiving to all!
This week is one of the busiest for food bloggers. Every day it seems like there was another "Top 5" list of Thanksgiving treats, side dishes, and turkey tips. I feel very lucky that I am still in the young adult life stage, during which I am not required to cook any part of the Thanksgiving meal; except those I offer to. This means that I will cook the occasional appetizer, side dish, and/or desert. I am very happy to do so, especially since it alleviates any responsibility for my cooking of a turkey.
This year I decided to bake a Lemon Meringue Pie for my family's meal. I then made a Spinach-Artichoke Wontons, Cheddar Popovers, and an Apple-Cranberry Crumble for Parid's family. I plan to blog separately about the above items in hopes this will keep me motivated to blog frequently this week.
I want to use this post to make note of the things I am thankful for.
I am thankful for my good health. I am able to get up everyday and live life as I wish.
I am thankful for my family (those related by blood and those choice related by choice). It has been a long hard year-plus, but I am grateful for the laughs and the tears that have gotten me to this point. Many memories I'd like to live again and again, and some that I could do without or hit the reset button on. There are many more obstacles we will face, but they'll be easier with each other. I know that there is tremendous support to keep me going on a daily basis, like a personal cheering section at the Boston Marathon. (Keep it coming my friends, I need it.).
I am thankful to have a person who loves me unconditionally. I am thankful he accepts me for me; quirks and all. I am so thankful for the rock he provides, even when he doesn't understand all that life can throw at me (and I have to remind him silence is supportive too). I am thankful he is willing to work at our relationship and not be a bystander. I am thankful for the additional family I have gained because of him and the love and support they offer along our journey. I am thankful for the memories we hold and the future we will share.
I am thankful for my friends. My friends who offer support and encouragement daily. My friends who are behind the scenes checking in on me and keeping me in their thoughts. My friends who I loose contact with over time, but we pick up right where we left off. My friends who accept me for me, faults and strengths alike. My friends who keep me in check and remind me when I am out of my mind. My friends who use me as a support and make me feel valued everyday.
I am thankful for the incredible opportunities I have professionally. I am grateful for the chance to go to school. Thankful to be a part of a profession I care so much about. Thankful to make a difference in a child's life and his or her families. I am thankful that no day is the same and I am constantly learning. I am thankful that this career path reminds me (almost too much) that I am not 'perfect.' That there are things I am great at, good at, and need some extra work on. I'm learning to be okay with the latter and am thankful for that as well.
There are many more things to be thankful for, but these are my top choices. When it feels like you don't have much, it seems you begin to recognize all that you do have. Pulling away the facade of the outside world, and catching a glimpse at the true 'meaning of life,' makes it all the more special.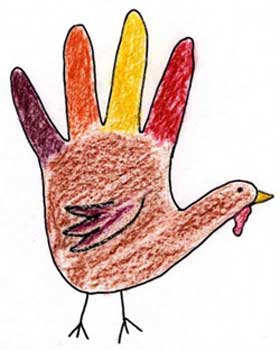 Happy Thanksgiving to all of my readers. May your day, and upcoming year, be filled with much to be thankful for.
Until next thyme,
Erika